Cyrus
29 North Street Healdsburg CA 95448

Cyrus was the first stop on a weekend of gastronomic decadence. The original reason my friends and I headed to Napa was to eat at the famous French Laundry. Naturally we decided why stop at one great restaurant when we can sandwich it between two other extravagant dinners. We finally decided on Cyrus based on Michelin's San Francisco guide one of the four 2 star restaurants after only 19 scant months in operation. It was actually between Cyrus and Dining Room in SF and Cyrus won out because of proximity and because one member of our party had been to the Dining Room recently.

The restaurant was located in the town of Healdsburg, about an hour away from our hotel in Napa. After 7 hours from Orange County to Napa, we weren't exactly keen on another hour, but it would be a small price to pay for good food. The route from Napa to Healdsburg was filled with small roads with few signs or lights. We joked about getting lost on the way back, little did we know how prophetic that would be.

Cyrus offers a twist on the standard a la carte menu, offering 3,4, or 5 courses at a fixed price simlar to Gary Danko no surprise since both co-owners (Douglas Keane and Nick Peyton) did a stint at Danko. These courses can be anything from say fish, poultry, meat, chesse, and dessert to 5 desserts (wouldn't necessarily recommend the last). The meal is balanced so no matter how many courses you order, the quantity remains relatively consistent so 5 courses won't be impossible to handle. Additional courses may be added for $15 each and some courses require a supplement. The restaurant also offers a 7 course chefs menu with supplements available as well.

Recently, I have been favoring prix fixe menus with wine pairings and Cyrus promised to be no different. I mean, come on, in the heart of Napa it's hard not to tightly couple food and wine. However, Cyrus does something different, their bartender Scott Beattie is a master of using premium local sourced ingredients to create innovative cocktails. One member of our party keyed on this and suggested instead of a wine pairing, do a cocktail pairing. I agreed in principle, it would be a waste not to try some of these whimsical creations, but by my reckoning cocktails wouldn't pair well with the later dishes. The compromise was to have cocktails with our first dishes then switch to wines. Well things didn't quite work out like that. When we got there we asked after the cocktail pairing and Scott came out and informed us the dishes on the chef's menu would be overpowered by a cocktail.

When we arrived at the restaurant we were promptly seated and after a moment asked if we wanted a drink or caviar service. Now one of my friends and I have been looking for Beluga for some time now. Unfortunately, we were going to have to keep looking. As for drinks, we decided to let Scott surprise us.

Canapes - Asparagus Tartare, Fava Falafel, Yama Imo
Rhubarb, edel flower, champagne
Prior to the amuse came a plate of small bites. On the spoon was an asparagus tartare cold and creamy, the flavors were slightly bitter and tart a nice way to clean the dust of the road from our mouths. In the center was the fava falafel spiced with a touch of harissa. The warmth went well with the slight curried bite of the harissa, very traditional Mediterranean flavors. Lastly, there was yama imo (japanese mountain sweet potato) fritters with pickled mango coulis. The texture was similar to the falafel but the flavor was sweet and rich with a hint of tartness from the pickled mango, very much like a sweet tater tot. The champagne cocktail was wonderful, a vibrant pink color with a nose of white flowers. The flavors ran closer to ginger and herbal flavors with abundant sweetness. There was a piece of rhubarb floating inside that had been stained with beet juice and had a gingery texture and flavor, like a concentrated version of the drink.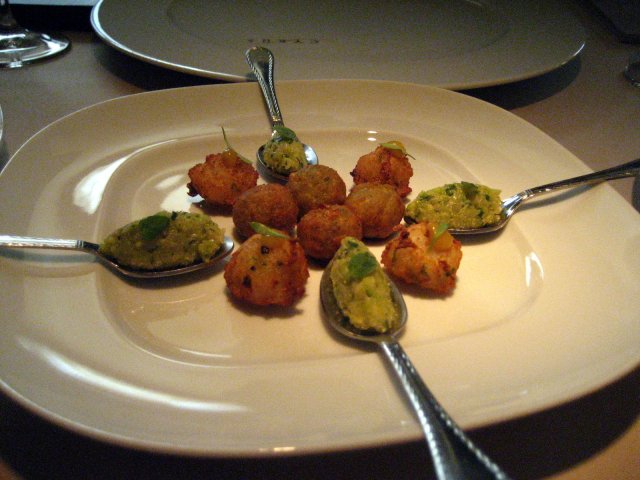 We were then offered bread along with two types of butter and two types of salt. The bread here was exceptional, fresh warm and simple. When it comes to bread I am a fan of simplicity, no extraneous flavors, I just want something warm and soft. The bread they offered was like a toasted bagette, with a hard crust and soft inside. I thought both butters were rich and smooth. They were unsalted so there was the option to add salt but it was quite unnecessary. The slight sweetness and natural richness of the butter were more than enough accompaniment for the bread. My friends also enjoyed the bread and ended up eating two or three pieces each, a mistake that would haunt them later. With the two cocktails and some very generous wine pourings coming up, its a case of catch-22 eat too much bread or be drunk by the end of the night.

Amuse Bouche - Big Eye Tuna with pickled ramps and curry
The fish itself was incredibly soft, much more delicate than standard tuna from a sushi restaurant. I later learned ramps are some form of onion. When tasting this morsel, the pickled flavor quickly gave way to the natural sweetness of the ramps. We noticed when they brought this course, they synchronized the service. For most tables, that meant everyone got served simultaneously. Sadly we were next to a pillar thus we had to be served two at a time. This is the first time I can remember receiving synchronized service and I thought it was a nice touch. Naturally, the trend continued throughout the evening.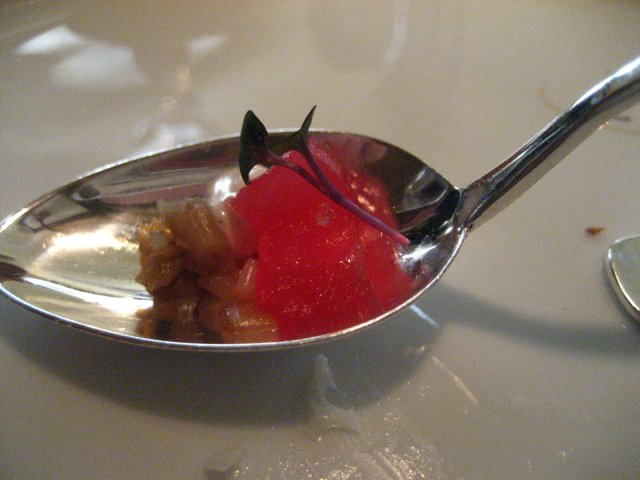 Thai Marinated Lobster with Avocado, Mango, and Hearts of Palm
Cocktails: Mojito, Rubarbarella, Frond's Song
Since scott told us we would be better served not doing cocktail pairings with the chef's menu, we opted to have a cocktail with Chef Keane's signature Thai Lobster. The lobster made a strong case for my favorite dish of the evening. The meat was chilled and sweet though the texture was a touch tough. The green on top is a mix of mint, cilantro, and basil all found commonly in Thai cooking. They combined with some fish sauce, mango, honey, and spice to deliver a flavor that ran the gamut from sweet to tart to spicy. We were each given a unique cocktail paired with the lobster. Kevin got a Mojito, fairly dull given our expectations, but the flavor was quite nice. The drink had some bite to it, pairing minimal sweetness and the taste of young mint in a way I can only describe as raw. Minh received a Rhubarbarella, again a bit odd since we had rhubarb cocktails already but this was my favorite of the three, mixing Hangar One Buddha's Hand Citron Vodka, Shiso, Preserved Rhubarb, Lemon Juice, Ginger, and Galangal. It basically tasted like a gingery hard lemonade. Lastly I had something I thought Nick (Peyton) called Frond Song that had Sarticious Gin, Lemon Juice, Anise Hyssop, Herbsaint, Green Chartreuse, Fennel Fronds, Borage and Dianthus Flowers, and Seltzer. The Song had a very herbal character and the unmistakable flavor of black licorice. By far the most complex, definitely more what I was expecting from Scott, but sadly I HATE licorice.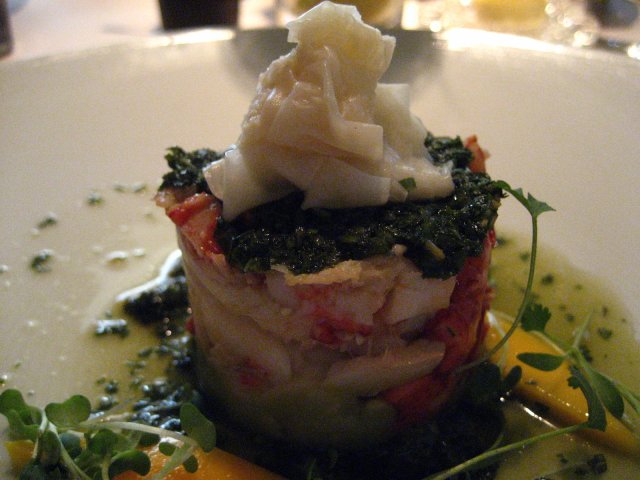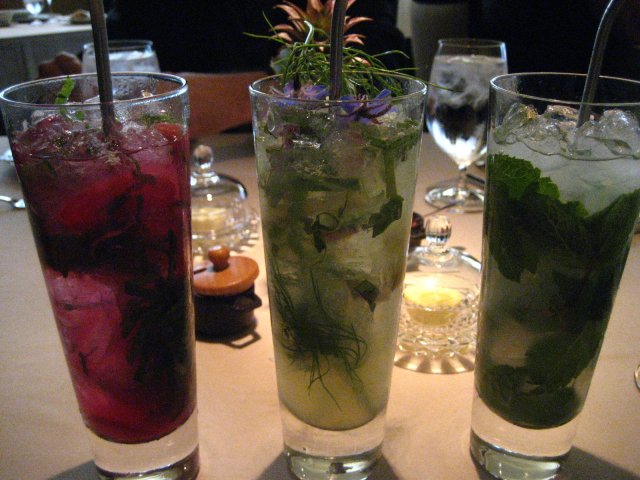 "Steak & Eggs", Wagyu Steak and Lobster Tartare with Horseradish Creme Fraiche, and Caviar
Champagne Agrapart, "Grand Cru - Cuvee Terroirs." Avize, France
When we ordered the Thai Lobster, our waiter asked if it was ok to serve another lobster course immediately after. Of course it wasn't a problem. The way I figure it, if you ever have too much lobster, you must be doing pretty well for yourself. This course sounded delicious, Wagyu and Lobster tartare with caviar and horseradish creme fraiche. On the side was a slice of wagyu sashimi atop a fried quail egg. In the center for good measure three marrow fritters. The tartare came topped with caviar served in a hollowed out bone. The caviar was brilliant and though I enjoyed the tartare, the wagyu lacked the excessive fattiness I crave and the flavors overpowered the delicate taste of the lobster. The steak and quail egg tasted like breakfast, albiet a very decadent breakfast. The champagne paired with this was a blanc de blanc with nose of apple and pear that belies its dry mineraly taste. This was also the first of many very generous pours. The wine pours were closer to full glasses than halves and that would take its toll by the end.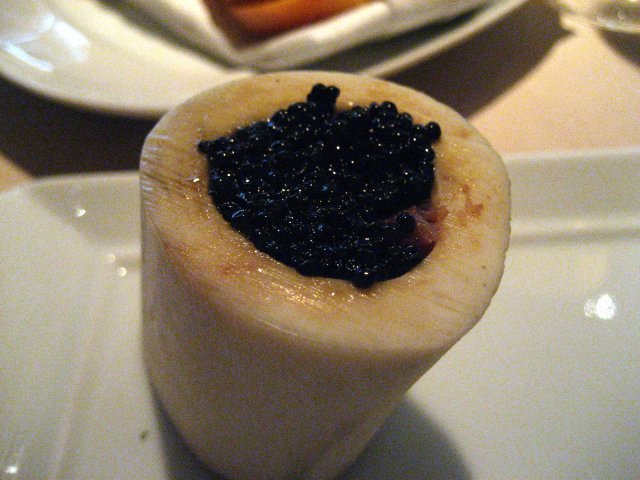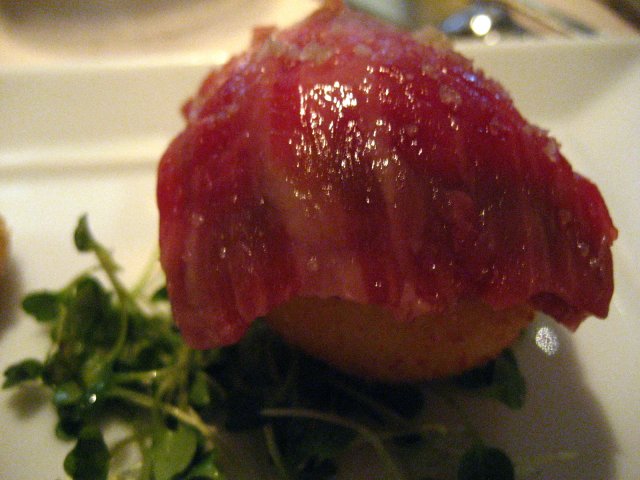 Chorizo Cruste Scallop, Mirepoix, and Manilla Clams
Manzanilla Sherry "La Guita", Jerez, Spain
This was a very delicate course. A large dayboat scallop came topped with chorizo in the center of some manilla clams. On top of this our waiter poured some mussel sauvignon blanc consomme. The scallop was soft and the chorizo imparted a mild bacon like flavor. The clams has a much more intense flavor that paired well with the consomme. This was a well executed course, but the flavors weren't really to my liking. The wine paired with this was a sherry from spain. We were warned that it may be closed without food; however, I thought even with food the wine didn't really open up. Definitely the weakest course of the evening for me.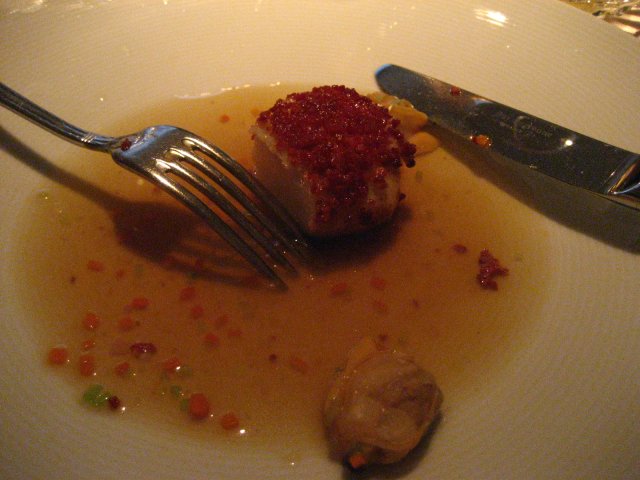 Rabbit Loin with Spring Onions and Porcini Mushrooms, Stuffed Baby Artichoke, Sherry Jus
Volna, Domaine de Montille, "1er Cru." France, 2004
Looking at the rabbit I couldn't wait to bite into it. The center was still rare, a first for me and the resulting texture was almost like an extremely moist chicken breast. Kevin said he got a flavor reminiscent of asian fish, but I didn't get that. I thought the nuttiness of the porcini and the flavor of the onions were a perfect pair for the rabbit. The baby artichoke was paired with bacon and rabbit au jus with the bacon being the most evident of the three. The wine was a very beautiful looking burgundy. The color was exceptionally light and the nose was that of young red fruit. The wine was pleasant to taste but no flavor dominated, that is until you pair it with the rabbit. I thought unlike the previous dish this wine went marvelously with the rabbit and really opened up.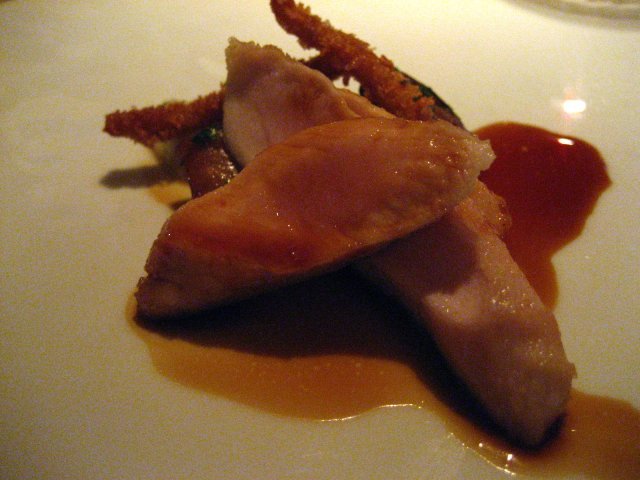 Foie Gras with Braised Duck Cannelloni and Green Garlic, Moscato Sauce
Rioja Crianza, R. Lopez de Heredia "vina Cubillo", Spain 2001
At this point my friends and I had started towards wagering what dish was coming next, Kevin and I guessed lamb, while Eric and Minh guessed duck. The foie gras was the other contender for favorite of the evening. The hard seared skin of the foie gras protects a delicate semi liquid center. The flavor is rich oily and a touch nutty. The cannelloni shells were a touch hard for my taste but the orange duck was classic, tender duck with a citrus flavor that fades, leaving the savory duck. The wine paired with this was also a winner, classic Rioja with orange zest on the nose and palette with a slightly bitter finish, definitely easy drinking!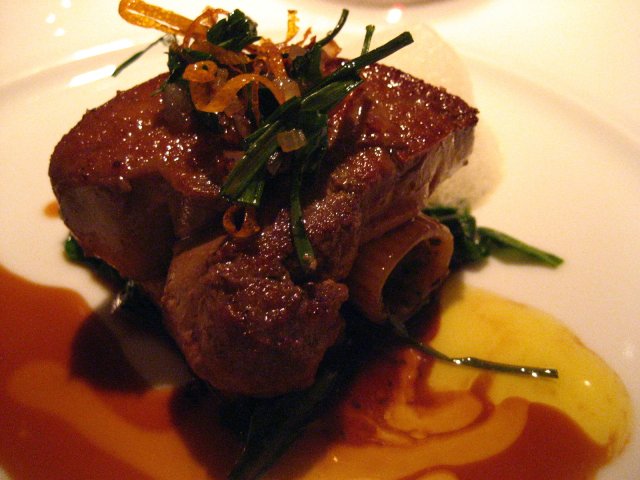 Mango Lychee Creme
Next we were served a small pre-dessert, four lollipops sitting in a bucket with glass beads. The cremes almost dissolved on contact and had a delightful melon flavor. For Kevin, Minh, and I it reminded us of the melon flavored japanese gum you can get at the Asian market.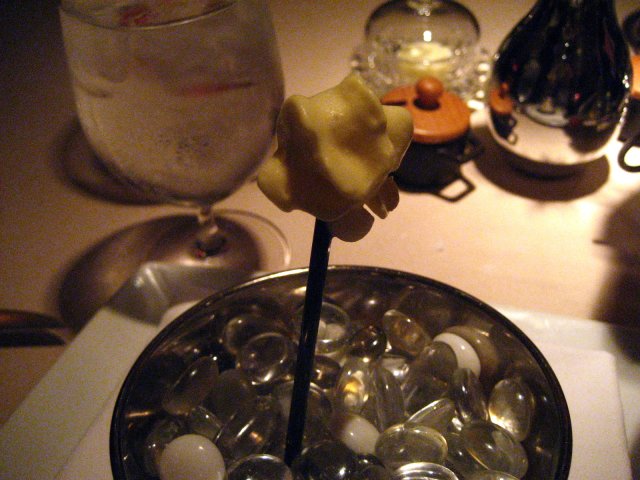 Veal with Morel Mushrooms, White Asparagus and Crispy Sweetbreads
Pinot Noir, Richioli, Russian River Valley 2005
We all guessed beef and were all technically wrong. The final course of the night wsa a veal with mushrooms. The veal was tender and had a flavor in my inebriated state I thought of as "beef that never got there." The panko encrusted sweetbread flan was my first experience with sweetbreads something Kevin can't stop raving about. For those of you who dont know, sweetbread is a euphamism for thyamus or pancreas because if we called it like it is, nobody would eat it. I swear I got the flavor of uni out of the flan but again it may be the alcohol talking. The wine was a big red with notes of cherry and a smoky spicy taste another easy drinker.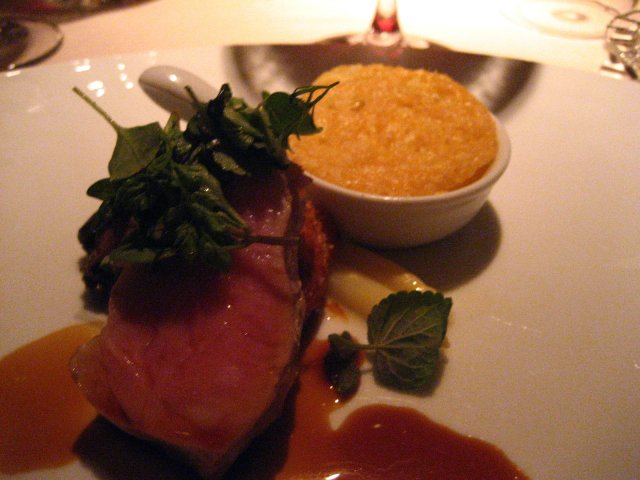 Cheese (from bottom right clockwise)
Goat's Milk Log from Pug's Leap Dairy
Goat's Milk from Provence coagulated with wild thistles curd, cheese cloth and ash
Sheep's Milk from Sally Jackson in upstate Washington
Sheep's Milk Serra de Estrella from using vegetable rennet and caradoon thistle, press wash wrapped, ship cut
Cow's Milk Rion de Trouffe. Truffled rich and unctious(I must have liked this one I have tasting notes on it)
Cow's Milk Green Hill from Sweetgrass Dairy in Georgia a rich double print
Now I am not a huge fan of cheeses but these were downright mild and easy to eat. Everybody else was bloated from the McDonalds we had for lunch (yes quite a change), so it was up to me to do all the damage. I probably ended up eating half the stuff on the plate and by the end was as stuffed as my friends who left me to shoulder the load. I wrote down what all the cheeses were, and it made sense to my alcohol addled brain but it sure as hell looks like scribbles now.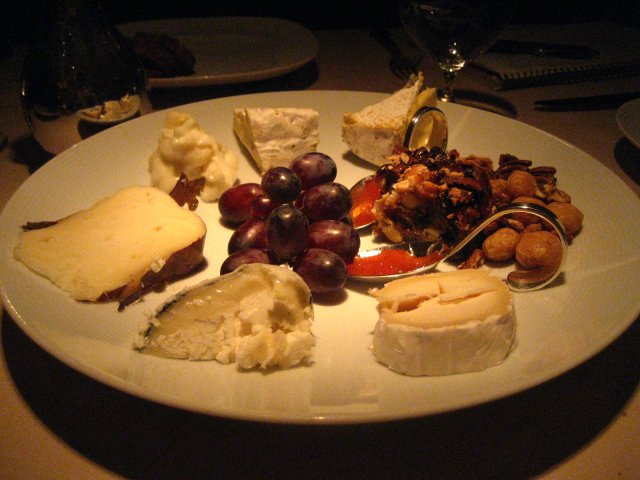 Mojito Soda
Basically a virgin Mojito with lime seltzer served in a shot glass. This was much sweeter than Kevin's drink earlier, definitely more of a palette cleanser just before dessert. The intense sweetness and the very minimal mint actually reminded me a lot of the mojito at Spago which all of us really enjoyed.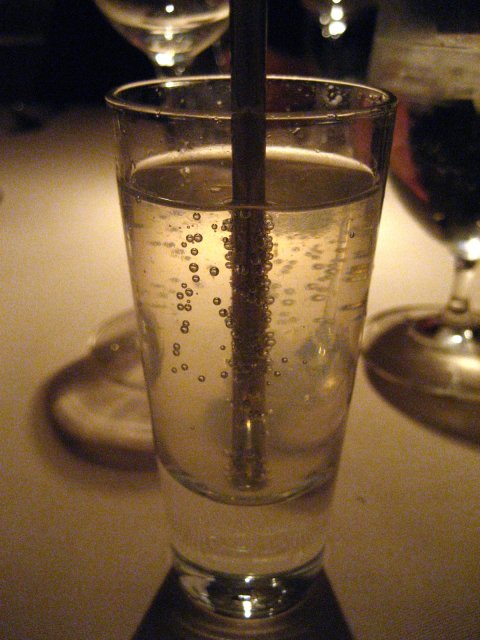 Rice Cream Sandwich with Yamamomo Gelee, Tapioca, and Hibiscus Chips
Brachetto D' Acqui, Marenco, Piedmont, Italy 2005
This was one of the two desserts served at our table. A very light cool and creamy dessert, definitely the easier one to eat when stuffed to the gills. Yamamomo for those who don't know is a japanese mountain peach. I also liked the Hibiscus Chips that tasted like Fruit Roll-up. I tend to favor white dessert wines but I wasn't impressed with this one. Instead I remember asking for a bit more of the port.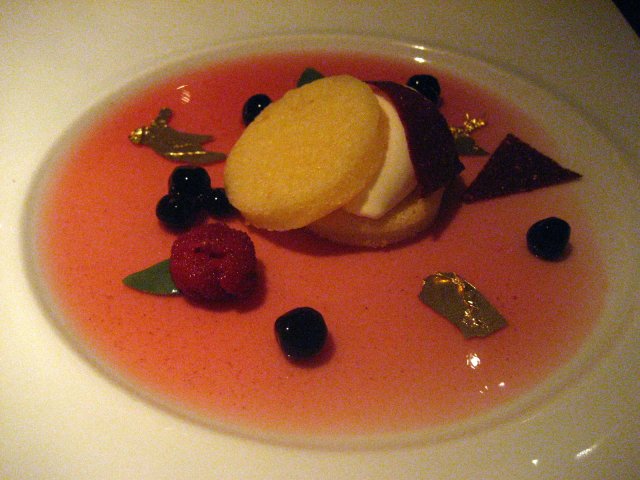 Carmel Soup with Kettle Corn Sorbet and Chocolate Filigree
1991 Colheita Port, Nierpoort
A much heavier dessert, this came with a bit of a show. We were presented with a bowl that had the sorbet and kettle corn surrounded by a webbing of chocolate. Nick poured hot caramel in a circle and melted the chocolate creating a thick soup of caramel and melted chocolate. The kettle corn and caramel flavors were definitely the stars here.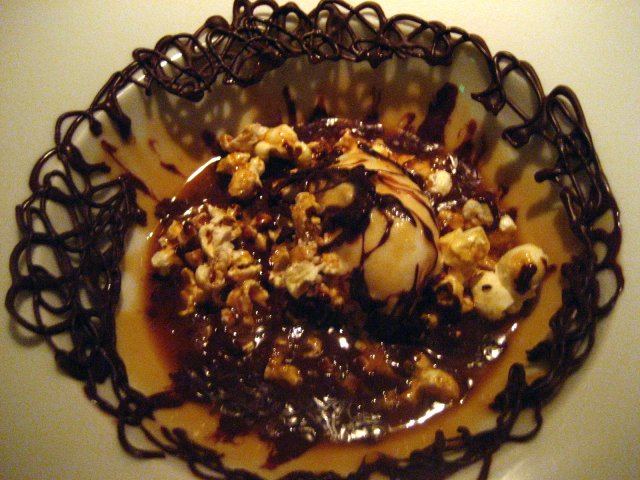 Mignardises
Four small sweets round out this meal: strawberry amaretto lemonade ice on the spoon, hybyscus red jelly, raspberry chocolate, and foil wrapped caramel.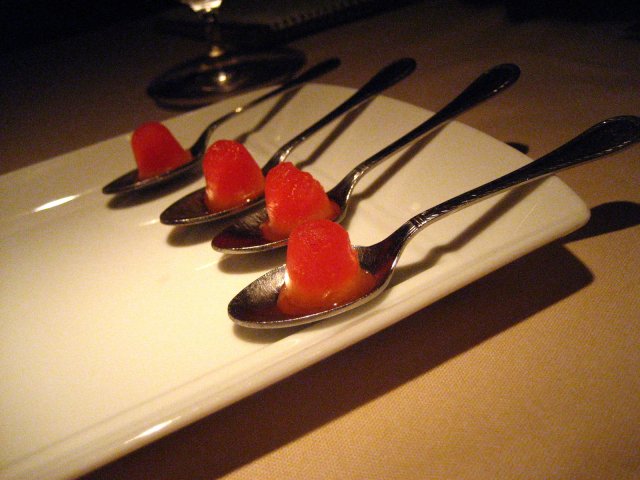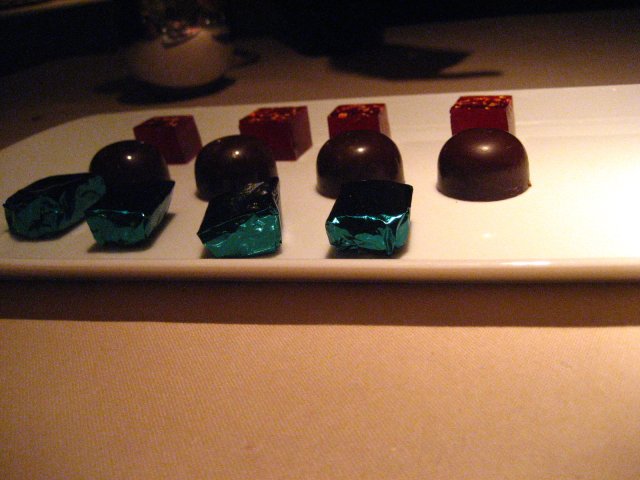 Throughout most of the meal we had a couple different servers. Surprisingly, Nick Peyton (Maitre 'd and co-owner) spent a lot of time serving, conversing, and thoroughly entertaining us. I suppose I shouldn't be surprised after all it is a key aspect of how he operates, still it made us feel very special. As with the last four restaurants I went to, he asked if we were in the restaurant business, citing our diligence at pictures and notes as the reason. I am happy to say I enjoyed his company very much. He was also kind enough to print out custom menus for our party and arrange for us to tour the kitchen.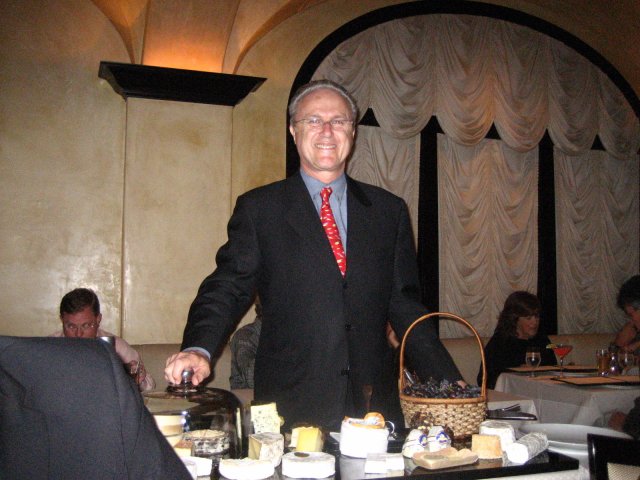 In the kitchen we met with Chef Keane, the other half of this dynamic duo. Perhaps it is his youthful countenance or his easy smile or perhaps it was Nick's influence, but Chef Keane was easier to approach then most. He happily took a picture with us then allowed us to snap photos of his kitchen to our heart's content.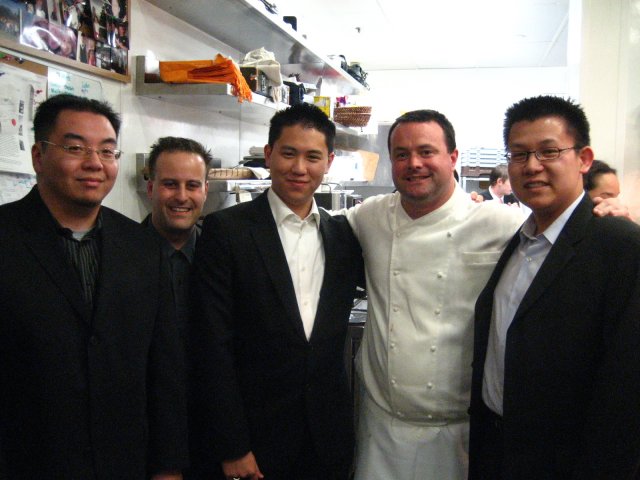 Cyrus was supposed to be a warmup for French Laundry, but knowing what I do now, Cyrus alone is worth the trip. If you do make the drive out to Cyrus you will not be disappointed. The food makes for a wonderful evening, but the service makes it an unforgettable experience.

Home